Redevelopment of the Circle Pharmacy - Altona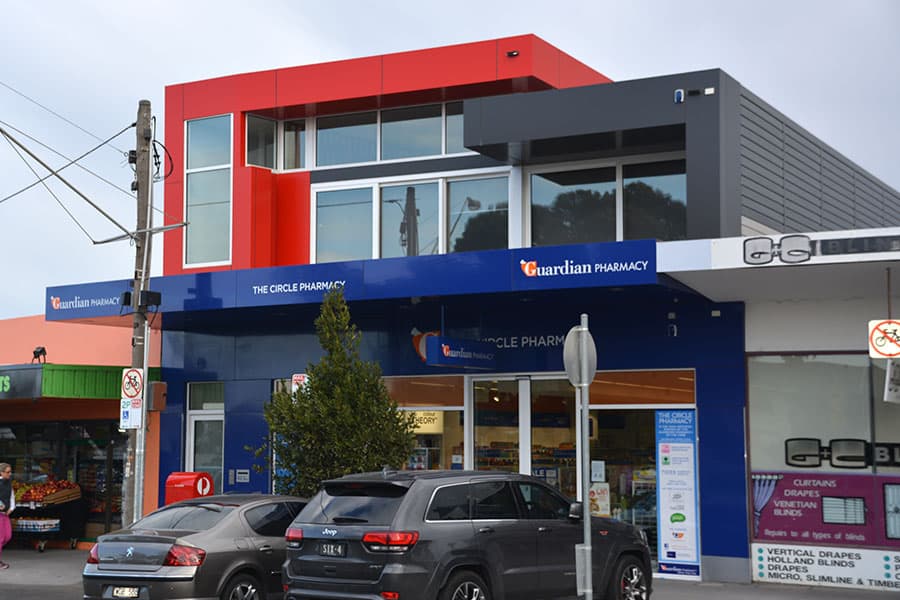 Client: Naismith Family Trust
Project: The Circle Pharmacy Altona redevelopment
Scope: Relocate business into a temporary facility, demolish existing facility and build a new, 2 level complex with upper level premium apartment and retail pharmacy below.
Delivered: August 2013 – May 2014
Key Trades: All aspects including asbestos removal, extensive scaffolding, extensive fire rating, premium finishes, complete services D&C, multiple external cladding materials and retail fitout.

The Circle Redevelopment is likely the most complex program Loaram has ever contemplated. It entailed the reconstruction of a new pharmacy retail facility with top level premium apartment, while the business remaining trading at all times. To complicate things further, the site location within the Circle Shopping Strip in Altona is landlocked between operating businesses that could not be interrupted for the duration of works.
At inception, Loaram was tasked with refitting a local premises in the shopping strip to allow the Pharmacy business to be relocated on a Sunday, out of trading hours. This in itself was a significant challenge with a temporary refit needed, including upgrades to meet BCA.
The main site at 51-53 The Circle was then demolished, including removal of significant levels of asbestos. Protection works were significant with extensive propping and support required for party walls. Civil works included a complete redesign of sewer and storm water systems to new tap in points and points of discharge. 80 screw piles were deployed in preparation for the main slab, followed by a complex matrix of steel work to accommodate the completely open plan retail space below and level 1 apartment above.
The upstairs 2 bedroom / 2 bathroom / 2 living area apartment is a first for this location and captures great views back to the Melbourne city skyline. It was fitted out with premium finishes internally and a blend of external cladding finishes that included Aluminium Composite Materials, Matrix panel and Longline cladding.
Below, the retail space was completed including supervising a full retail fit out, security and CCTV systems and all branding.
On this project Loaram took an all-encompassing role that included procuring building permits, managing access requirements with local authorities, engaging consultants for services designs and managing all aspects of the project on behalf of the client – including financial reporting.
Testament to the success of the development was the prestigious Guardian Pharmacy of the Year Award bestowed upon the business owners of 51-53 The Circle at the end of 2014.
Project Reference: Paul Naismith (Pharmacist / Owner / Developer) – 0417 341 899 (paul.naismith@fred.com.au)