GTP Café at Deakin University - Waurn Ponds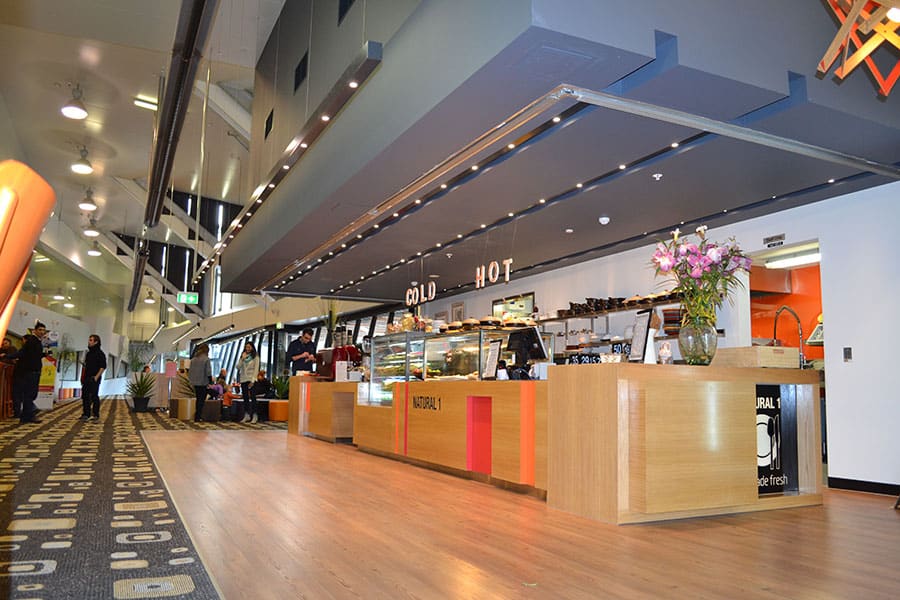 Client: Deakin University
Project: GTP Café at Waurn Ponds Campus
Scope: Integrate a commercial kitchen, Café and eatery into existing open commercial area.
Program: 18 weeks
Delivered: April 2013
Key Trades: Civil & Structural, Commercial Kitchen & Fitout, Stainless Fabrication, Finishing, Joinery, Hydraulic, Electrical, Mechanical, AV, Data, Security.

The GTP Café evolved like very few projects Loaram has delivered in the past. The location was an open facility within the GTP technology precinct which presented unique challenges associated with the scientific activities of adjacent labs and environmental controls with no capacity to create vibration during working hours.
A challenging program took on a new character when demolition and civil activities were diverted to night shift works and a complete external package of extensive landscaping and outdoor leisure areas was added.
The area was literally transformed from a hard and cold environment to one of vibrancy, warmth and constant activity. It is a project where a great deal of credit should go to the architect – Paul A von Chrismar, director of Buro Architects.
The height of the prevailing ceilings adds to the grand effect the selected feature lighting in particular is a key to the "wow" factor. Extensive solid timber joinery and eatery booths are also pivotal to the inviting feel that has been created.
The Commercial kitchen, detailed by Chris Love Design was constrained by the limited back of house space available in the GTP precinct. This created complexity for integration into the existing onsite services and structures. It is somewhat ironic that the towering bulkheads above the kitchen that run up to the full height 10M ceilings are more spacious than the working area below.
The external areas are no less impressive. A custom designed seated section is provided with a protective canopy, featuring cypress timber battened soffit, custom cypress clad suspended lighting and Dampalon roofing. Extensive raised concrete feature garden beds are also in abundance.
As with all Deakin University projects, the aesthetic outcomes are underpinned by the mandatory provision of Deakin-approved security systems / access control, integrated AV, Krone 20/20 data and communications, and in this instance, modifications to existing fire sprinklers to reflect the revised usage of the area.
The Loaram Team considers this project to be one of the best visual outcomes delivered thus far.
Project Reference: Paul A. von Chrismar – Buro Architects – 9329 1450