Canopy and Walkway at Station Pier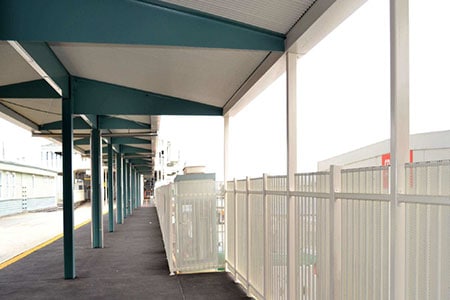 Client: Port of Melbourne Corporation
Project: C2015 – Station Pier Canopy and Walkway
Scope: Construction of a new pedestrian walkway plus feature canopy and associated works.
Key Trades: Demolition, extensive Structural, Fencing, Civil, Carpentry, Electrical and Roofing.

Works at Station Pier are always undertaken with sensitivity for the heritage listing of the entire site. This project is the largest of 5 projects undertaken by Loaram Constructions at Station Pier to date. It is also the most complex.
Works consisted of creating a new thoroughfare for pedestrian movement from the outer (International) terminal through to Street frontage at Port Melbourne.
The designed walkway provides approx 200LM of platform projecting 1800mm out from the upper roadway level out and over the slightly lower working platform below. To ensure pedestrian transition is weather protected, a custom freestanding structural canopy 6M x 70M long is also incorporated between the existing heritage listed buildings.
To incorporate the design, the layout of the entire pier was adjusted – parking bays recreated, new pedestrian walkways established, a bus point added and a Vic Roads accredited pedestrian crossing was installed.
Station Pier is never an easy environment to work in. This project tested the limits. Beyond the usual climactic challenges, the design became quickly compromised by numerous differing site conditions once works commenced. Under deck custom access was deployed to accommodate a complete redesign of the canopy connections to the existing driven piles into the seabed below.
The pier remained active for the duration of works, including the 24/7 activities of the TT Line (Tasmanian Ferry). As a consequence, the level of site management was significant, entailing complex OH&S plans, noise minimisation (crews sleep in the buildings atop the worksite) and extensive traffic management. Environmental management was also a significant consideration.
The walkway construction was structurally significant and as with all Station Pier works weather resistance is a paramount consideration. All timbers for the project required custom ordering from the mill with special treatments applied – and all metalwork carries a highly durable 3-application Dulux process.
The project concluded with a $300K package of custom heritage compliant fencing, bollards and associated deck furniture and fixings. The Feature canopy was finished with a custom 125mm "Ritek" sandwich panel custom fabricated roof – sourced from Queensland. All downpipes, gutters etc are custom-made 316 grade stainless steel.
Design and site issues aside, the greatest challenge was program. From inception the end date was set in stone as the International Cruise Season commences with the first ship arriving in week 1 November 2012.
It was a great satisfaction for all parties to see that date met, regardless of the challenges along the way.
Project Reference:
Robert Miraglia – PoMC Senior Project Manager – 9683 1397