Hanmer Reserve Pavilion Extension – Yarraville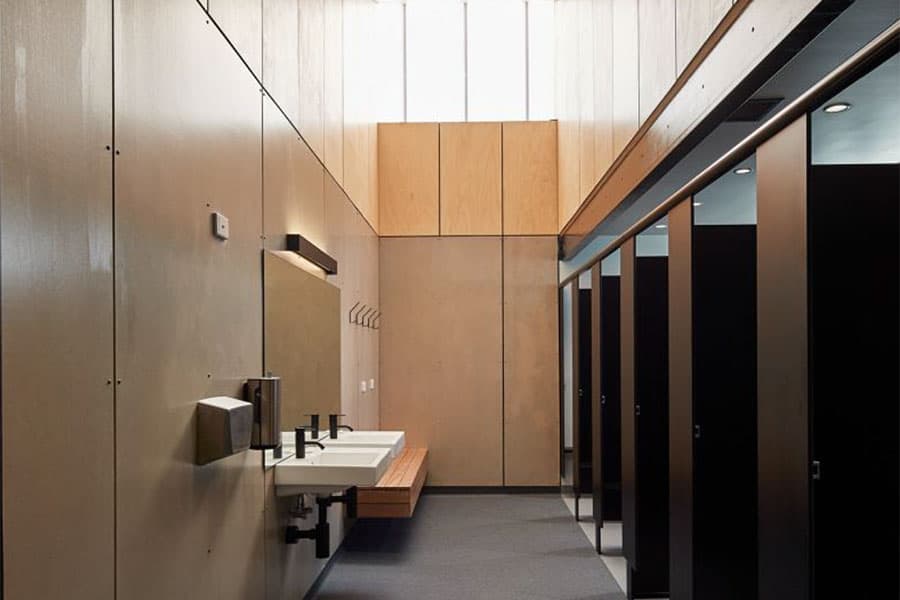 Client: City of Maribyrnong
Project: Hanmer Reserve Pavilion Extension – Yarraville
Scope: Extension to accommodate new amenities and change rooms.
Showcases: Structural complexity, high end architectural detail internally and externally

Hanmer Pavilion is another example of works extended to Loaram by the City of Maribyrnong.
In this instance the quality of the design and well prepared consultants documentation generated by Searle X Waldron Architects presented a platform of high end materials and finishes to really showcase how impactful an extension of this nature can be.
Situated opposite the picturesque Yarraville Gardens this project had to address a number of complex conditions.
The design strategy as explained by Suzannah Waldron was to "bookend" the existing structure with a new addition at the rear and a balcony capturing the expansive view across to the gardens at the front.
Making minimal contact with the existing fabric, both parts combine with the existing building to create a comprehensive whole.
To that end it was disappointing the front balcony was ultimately hindered by existing electrical infrastructure and associated clearance issues that saw that aspect of the project postponed, pending the completion of significant street utility works.
This brown-field site offered a number of challenges. Building over a former quarry with contaminated soil & working with a difficult plan configuration within the existing pavilion. The design utilised hollow-core precast flooring sections and bored piers sunk to beyond 13 meters. It also combines the economy of a timber frame with the strength of structural steel. Durable materials have been specified thoughout to meet the demands of the clientele.
The rear addition allows for multipurpose events with flexible change rooms, increases amenities and club storage areas. The addition allows the pavilion to expand is use around all seasons facilitating Auskick programs and the existing Seddon Cricket Club activities.
It is unlikely Loaram has had a more "integrated" design to deliver across its many projects. The materials selections work seamlessly from the cool industrial external façade to the warmth and depth of the internal timbers and abundance of natural light.
The design accommodates both the practical needs of the tenant clubs as well as the importance of ESD, perhaps best reflected by the integration of dedicated equipment stores and multipole storage "nooks" that conceal rain harvesting tanks and waste receptacles.
Project Referee: Suzannah Waldron – Design Director Searle X Waldron Architecture
Project architect – 9077 9295 – suzannah@sxwa.com.au