Maidstone Tennis Pavilion - Heritage refurbishment, extension, upgrade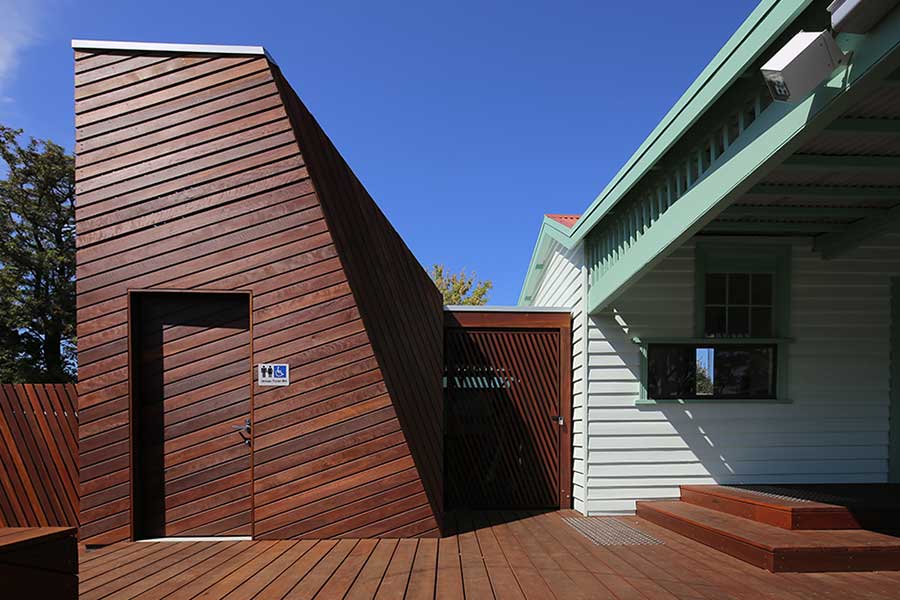 Client: City of Maribyrnong
Architect: Searle X Waldron Architects
Project: Pavilion Heritage refurbishment, extension and surrounds
Scope: Reconstruction of existing pavilion, decking, adding a bathroom, lockable storage facilities and low gradient access ramps.

Winner in Australian Institute Architects National Awards 2016, Nicholas Murcutt Award for Small Project Architecture
Winner of the Australian Institute of Architects 2016, Kevin Borland Award for Small Project Architecture
Located in the rapidly mutable Inner-West of Melbourne, the Maidstone Tennis Pavilion project sought to arrest time and embrace the new vibrancy of the changing suburb that is Maidstone.
The clubhouse had a history of drastic change, ad-hoc alteration and incremental addition. In 1917 it was the Sunshine Bowling Club, located five kilometres west of the current site and a single gabled pavilion. It gained a 'second gable' before relocation in the 1950's – doubling the small pavilion's size. A series of minor functional modifications bisected and overlayed the original fabric with legible disruption evident as the years passed.
The building was unlisted with further heritage significance pending the possibility of relocation back to its original site in the H.V McKay Memorial Gardens in Sunshine. Riddled with asbestos, with neither plumbing nor operational wiring, the building had been abandoned for well over a decade.
Disintegrating into a grave state of dilapidation and structural decrepitude, the site was left open to vandalism, scavenging and unsociable activity.
Infested by possums above, rats below and termites randomly in-between, on face value the best and likely only use for the pavilion was firewood – albeit second grade.
But, not so as far as architectural firm Searle x Waldron were concerned. Not only did they drive a painstaking restoration methodology, Searle x Waldron also added a striking ambulant bathroom and extensive public decking, along with minimal internal upgrades for basic serviceability.
Competitively tendered by Loaram Constructions, the project was secured mid-2015. Consistent with the focus upon the core pavilions' authenticity, the key theme was remediation / restoration, as opposed removal / replacement.
This stunning site success was delivered by Loaram senior site supervisor Rohan Charty and driven by his unrelenting attention to detail as a qualified carpenter never afraid to "get on the tools".
The entire subfloor was reconstructed whilst retaining the original floor lining boards for refinishing. Only external cladding completely unserviceable was replaced, as were any beams, joists, rafters and other structural elements. Even the painter's plank used to form the second ridge line sometime in the 1950's was considered for retention, had it been found structurally sound. Yes, we kid you not…
All internal asbestos linings were removed as was the collection of remnants found under the building. Special acknowledgement goes to Loaram's talented painting contractors whom diligently stripped, repaired, prepared and refinished every splinter of retained weatherboard, architrave, feature post and cosmetic detailed fretwork.
To quote Co-Project Architect Suzannah Waldron;
"Continuing the (historic) strategy of small additions, the new bathroom pod extends the rhythm of the roof, adding a new form as a stand in for a 'third gable' – taking angular cues from the ridgelines.
Building discreetly on the site, the site scope recessively adds low gradient compliant access ramps & lockable storage facilities.
An expansive viewing deck is opportunistically integrated within these elements with seating for the adjacent tennis courts connecting with pathways from the existing park-scape.
New additions are demarcated through a shift in materials. Shades of spotted gum contrast against painted minty green hues of the clubhouse. Exploiting the decorative and functional use of striated weather boards, fretwork, shiplap, screen and decking – boards shift diagonally in orientation contrasting with orthodox horizontal and vertical applications of cladding.
The bathroom interior is bathed in filtered green light with fittings fixed against a fluctuating dado-line. Similarly, even the rear laneway elevation responds to the staggered and ad-hoc fencing conditions".
Suzannah Waldron – Design Director Searle X Waldron Architecture.
Co-Project Architect – 9077 9295 – suzannah@sxwa.com.au