J K Grant Reserve – Social Rooms and Change Rooms Redevelopment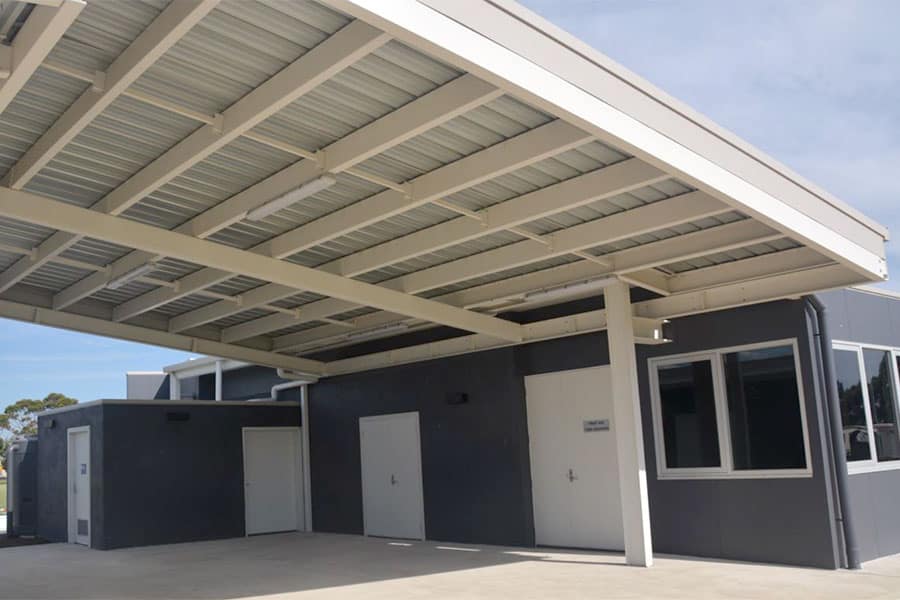 Client: City of Hobsons Bay
Project: J K Grant Reserve – Social Rooms and Change Rooms Redevelopment
Scope: Major reconstruction and refurbishment of social pavilion, change rooms and added facilities
Showcases: Structural management, value engineering, solutions input and client engagement.

Loaram is particularly fortunate to be a regular provider of construction services to the City of Hobsons Bay, commencing with the Bryan Martyn refurbishment back in 2009.
J T Grant Reserve represents a project Loaram secured in a tender process that, upon the commencement of site works, started to reveal some unique challenges.
In short, the project documentation did not appear to capture a series of significant challenges on site, including a shortfall in detailing the scope of the required new electrical supply and the prevalence of site soils not suitable for the structural design as proposed. Although not intended, the project morphed into a Design and Construct delivery.
Fortunately, Hobsons Bay's nominated senior Project Manager retained a wealth of knowledge and appreciated quickly that changes were essential. Loaram was empowered to introduce a new engineering team and a new design incorporating the use of screw piles, redeploying those soils still excavated on site to other applications and avoiding the costly process of removing soil from site that could not be accepted as clean fill.
Loaram looked to its contractor base and in particular our preferred electrical team to manage the new supply issues. The investment of significant time and effort saw an appropriate supply sourced some 500 metres away.
This supply was subsequently rerouted underground, under roads, around infrastructure and all manner of obstacles into the site to power the new MSB & Pillar, working diligently over many weeks with various authorities to power up the site for Christmas 2017 and the new cricket season.
Loaram was also availed the opportunity to contribute alternative design solutions, replacing operable walls with powered roller shutters, identifying and replacing unserviceable roofing – noted for retention – and developing a perimeter pavement strategy and canopy design to seamlessly interface the 2 freestanding buildings.
These initiatives and other cost saving proposals associated with alternative FF&E, lighting sections and finishes, released sufficient funding to allow a much-needed storage facility to be incorporated, as well as an electronic scoreboard.
It would not be unreasonable to suggest it is hard to comprehend the refurbished complex is actually a redevelopment of the original – and not a brand new precinct. The contrast from old amenities to new facilities is genuinely exceptional.
The most impressive transition is perhaps saved for the players themselves – along with the new bathrooms and amenities the change rooms themselves evolved from "a glorified shed" to a multipurpose and flexible space to accommodate both female and male participation in the codes of AFL and cricket.
Critically, all works were delivered by the end of 2017 as contracted and committed, regardless of the inherent issues.
Project Referee: Rohan Waldie – Senior Project Manager – 9932 2323 – rwaldie@hobsonsbay.vic.gov.au