City Football Club Training Facility at Latrobe University - Bundoora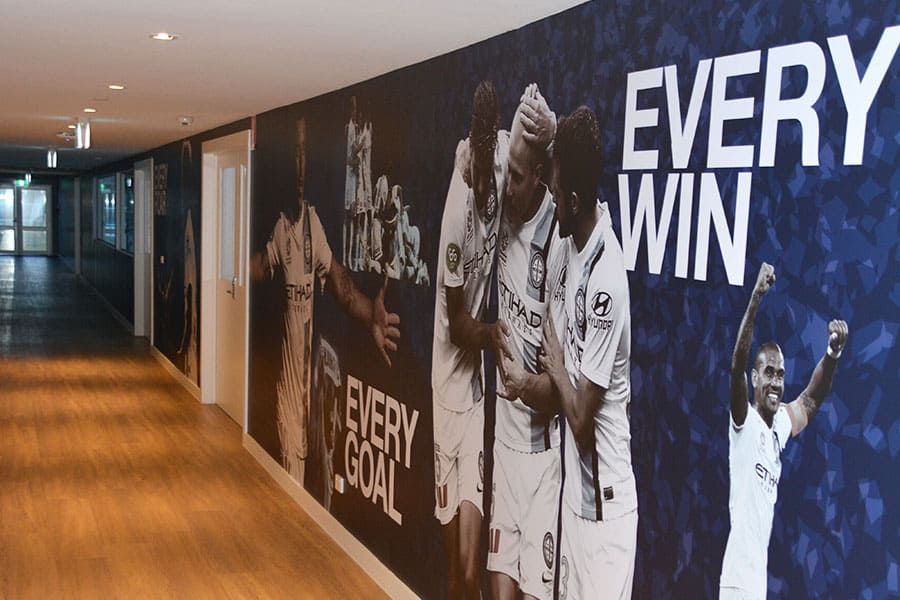 Client: Melbourne City Football Club and Latrobe University
Project: Elite Training Facility
Scope: Conversion of redundant school wing into state of the art Training Centre.
Key Trades: Structural, all services, all finishing trades, extensive joinery works.

This is one of the most challenging projects ever delivered by Loaram Constructions.
City Football Group is part of the global entity that includes Manchester City UK who acquired The Melbourne Heart Football Club in 2013 – transitioning the brand to Melbourne City.
City Football Group formed a strong alliance with the Latrobe University at their Bundoora Campus where CFG had established their training and management facilities.
The Elite training and administrative facility is the new home for CFG – Crissane Road on the Latrobe Campus at Bundoora. The site as provided was a 1960s school complex with over 50 year's hard yards on the clock. Failed stormwater systems and resident termites had rendered the building worthy of total demolition. However, time and financial constraints dictated a total refurbishment project instead.
Loaram acquired the opportunity after a strenuous tender process. At the end of the tender, the financial work re-commenced as a value engineering exercise was undertaken to further compress costs to meet the tight budget. Working closely with Turner Townsend and CFG, Loaram found over $300K in cost reduction initiatives without reducing the scope of works or quality expected.
Loaram was provided a 12 week window to convert the facility – from October to January. In the delivery process, Christmas Day was the only day when Loaram was not present onsite. Across the 12 weeks, Loaram gutted the facility, including managing extensive asbestos removal. The building was straightened, levelled and basically re-established.
State of the art services were then provided on a semi design and construct basis working closely with the client. This included extensive Electrical, Data / Comms works, Audio Visual and Security / Access control. A complete new mechanical system was designed, developed and commissioned for the facility.
City Football Group has a very strong identity and global theme through all its facilities. Loaram delivered this through a combination of imported external cladding (Client supplied from UK), as well as extensive internal finishes using solid timber panelling, Corian tops and extensive customised joinery.
The scope closed out with the provision of a first class gymnasium facility flanked by specialist medical suites and 2 x hydrotherapy baths.
Project Reference: CFG – Ian Wilson, Facilities Manager – 0421 637 013
Project Reference: Latrobe University – Owen Warlond, Project Director – 0410 345 998